Commercial Snow Plowing & Removal in Norfolk, MA and the Surrounding Areas
---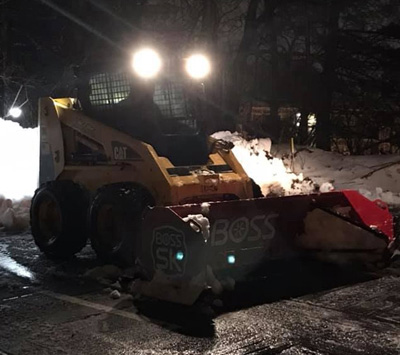 We plow and remove snow fast to minimize safety hazards on your commercial property.
The icy chill of winter can be detrimental to commercial properties as heavy snow, ice, and slippery spots can make it unsafe for customers, visitors, and employees. At Ten Four, we specialize in commercial snow plowing, removal and ice management for property managers, retail spaces, office building, medical facilities, apartments, and more. Our team understands that after a heavy snowfall, you need your parking lot and walkways cleared fast. We will work tirelessly to clear away any snow and deice the area before you're open for business.
---
Melt Away Worries With Our Dependable Services
Whether you need commercial snow plowing and walkway shoveling or deicing and roof raking, you can count on the team at Ten Four to be there. Storm after storm, we provide fast and reliable snow and ice management services for properties across Norfolk County. With our advanced weather monitoring, our crews are on call 24/7 to handle any weather situation.
---
Our Fleets Are Always Ready
Fully stocked of bulk salt and deicer products, our fleets are always ready in the event of a major snowstorm. We're known for our quick and effective response time to remove snow from commercial properties across the area. When choosing to work with Ten Four LLC, you're partnering with a company that prides itself on its reliability, speed, and efficiency as soon as the snow hits.
You Get More Than Just a Plow Truck With Our Team!
---
When you work with our team of snow removal experts, you're getting customized commercial snow plowing and removal solutions that are tailored to your property's needs. We do much more than just plow your parking lot; we develop snow and ice removal plans that ensure the safety of your employees, visitors, and customers. For a free estimate, give our team a call at (508) 505-5416 today.
---
---